Food Pantry of New Orleans Giving Hope Gala
November 1, 2017
Giving Hope at the Food Pantry of New Orleans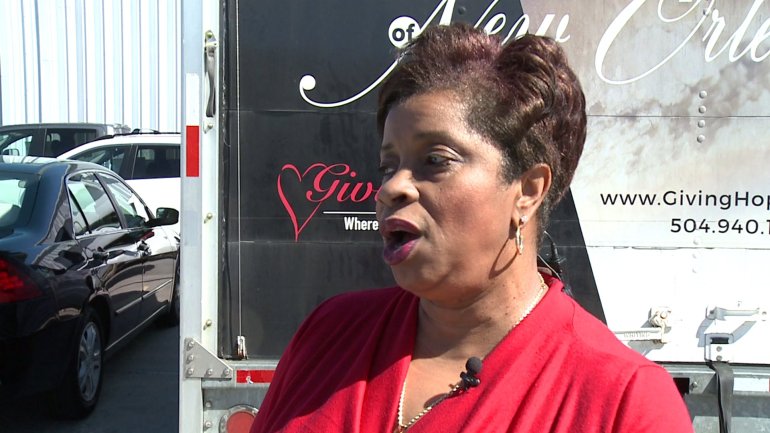 NEW ORLEANS -- Satisfying the needs of the poor in our community is a big job. One local organization works daily to make life better for the less fortunate, and this weekend they've got a big celebration to help out in those efforts.
"A city like New Orleans, known for food shouldn't have hungry people, "Troy Duhon, co-founder of the Giving Hope Foundation, says.
That simple message was the impetus for Duhon and his wife Tracy for starting the foundation, and the work of the Food Pantry of New Orleans they sponsor.
The Food Panty is not a government agency, but they feed hungry people in our city every day.
"We don't turn anyone away. All you've got to do is tell me that you're hungry," says Pantry Director Betty Thomas.
To be clear, these folks provide boxed food and hot meals, but they also give so much more.
Thomas says, "Giving Hope and The Food Pantry is where people know that love changes things because we issue a lot of love. We hug on people, we pray with people All of that makes a difference when people come in here and they're going through things."
This Friday night is the 4th annual Giving Hope Gala at the Hyatt Regency, and it's a chance for you to help with this massive effort.
"It is an opportunity for us to celebrate and to actually honor people who've actually made this happen. This is a big operation. We're gonna run probably 2.4 million pounds of food this year cooking close to 200k hot meals out of this location, oppening our second location at the beginning of next year," according to Duhon.
Giving Hope sponsors The Food Pantry of New Orleans, Giving Hope Retreat Center on the north shore, Hope Against Trafficking, and Hope House Orphanage.
You can get tickets for the gala here.
Check out the original article on WGNO.